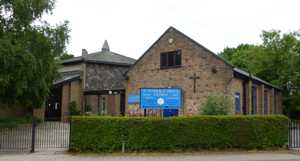 Hucknall
St Peter and St Paul
Newark Archdeaconry
Newstead Deanery
Introduction
Built in 1966 in a unique variant of Modernist style for Southwell Diocese by the architect Vernon Royle.
Its original plan was hexagonal with glass for two of the walls from floor to ceiling; the exterior of the others was of granite from Charnwood Forest. The six pre-cast vertical members project from the flat roof like the points of a crown. In 1985 the building was extensively extended out on each of its three 'wings', retaining its hexagonal shape.
The altar is central and seating for the congregation, choir and clergy is almost all the way round. A single slab of Westmorland slate forms the top of the altar.
The building is connected to the Community Hall next door, which was previously used for services. There is a nave, vestry/kitchen and small fibre glass spire on the roof.
The church serves the Ruffs estate.
Particular thanks to Zoe Childs, Maureen Newton and the Rev Jo Stephens for research on this entry
and to Geoff Buxton for the photographs.