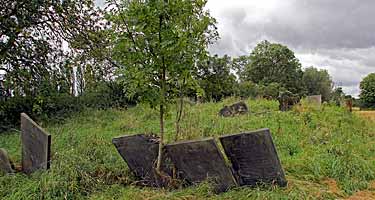 Kinoulton
St Wilfrid
Nottingham Archdeaconry
East Bingham Deanery
Introduction
The church may have been built by Roger, Archbishop of York some time during the 12th century. It was built on the hill about half a mile west of the village close to the Fosse Way.
The church consisted of a chancel, nave, west tower, porch and possibly a south aisle.
Having fallen into disrepair the church was eventually demolished around 1792, to be replaced by St Luke's.
Nothing remains of the church except for a number of mainly slate 18th century headstones of which some are good examples, including those of William Bates, died 1797 and Patrick Dee, died 1703 which Pevsner described as 'particularly fine'.
Particular thanks to Jo Perrett for research on this entry
and to Geoff Buxton for the photographs