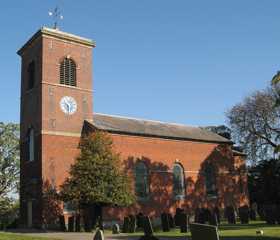 Kinoulton
St Luke
Nottingham Archdeaconry
East Bingham Deanery
Introduction
St Luke's Church was built by the Earl of Gainsborough in 1792-93 to replace the demolished medieval church of St Wilfrid's.
Built in red brick the church consists of a chancel, nave, west porch and three stage tower 20 m high containing a clock and 12 bells. The entrance is under the tower. The roof is very low-pitched. There are four round-arched louvered bell openings in the tower, classical moulded eaves, cornice and a weathervane.
On each side of the nave are three round-arched window openings with raised cills, key stones and plain leaded lights. The middle window on the north side of the nave is blind. There are three similar windows in the chancel, one at the east end with more decorative glass, and a blind window on each side. Part way up the tower is a similar west window. There is an impost band to this which continues around the tower and becomes an eaves band to the nave.
Pevsner described the chancel as 'nicely, domestically panelled'. Cox, however, dismissed the building as 'mean and depressing.'
The pulpit is of mahogany.
The original box pews were replaced with open seats in 1856.
Particular thanks to Jo Perrett, Andy Nicholson and Robert Jones for research on this entry
and to Geoff Buxton and Dr Chris Brooke for the photographs