Kinoulton St Luke
Churchyard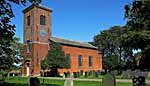 The churchyard is rectangular in shape and covers an area of 0.4 ha. The church is located centrally within it and there are burials on all sides of the church.
The boundary consists of hedges and mature trees. The main entrance is a pair of iron gates with brick piers on the south.
The original churchyard was extended to the north in 1939. It was consecrated by the Bishop of Southwell on 12 May 1939.
In the churchyard there is a Commonwealth grave from World War II for Lieutenant Claude William Henry Dobbs, Pioneer Corps, who died 20 March 1941. The grave mentions that he was husband to Helen Dobbs of East Bridgford. His name was also mentioned in dispatches for World War I and there is a plain memorial plaque to him inside the church.