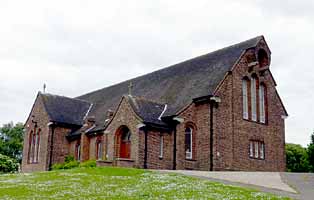 Mansfield (Ladybrook)
St Mary the Virgin
Newark Archdeaconry
Mansfield Deanery
Introduction
Standing on a small, but prominent, hill in the middle of a new estate, this large plain brick church with clay tile roof was erected in 1957, although the year 1955 is clearly marked on two hoppers. It was designed by N M Lane, the Diocesan surveyor.
It consists of a nave with aisles, chancel, organ loft, Lady Chapel, large porch at the north west corner, vestry and a cantilevered brick turret on the west gable which has contained one bell by J Taylor, re-hung in 1991.
There are seven bays, separated by square columns, in the nave, which is lit by round-topped double windows in plain glass in between prominent brick buttresses. Also there are two pairs of round-topped lancets on each side of the chancel, similar triple lancets on the Lady Chapel and large triple lancets at the east end.
There is no stained glass and there are no monuments. There is a moveable wooden font and a fine wooden pulpit.
In 1957 several biblical paintings were hung on the walls in which all the figures were in 1950s clothes. They were so controversial they made it on to the pages of Time Magazine.
In 2008, as part of the 50th Anniversary celebrations, two wall hangings were designed and put up in the chancel, inspired by Carol Marples.
Particular thanks to Dr Chris Brooke and Amy Calladine for research on this entry
and to Dr Chris Brooke and Geoff Buxton for the photographs.