Mansfield
St Mark
War Memorial
There are several war memorials at the church.
| | |
| --- | --- |
| War memorial | Worn inscription |
In the churchyard, to the south of the church, is a Portland stone gabled crucifix set on an inscribed square pedestal with moulded plinth and cornice and has a circular base of two steps.
It was dedicated by the vicar of St Mark's, the Rev H. L. Day, on 31 March 1920.
The badly worn inscription is on three sides of the pedestal:
GOD SPARED NOT
HIS OWN SON

1914-18

REMEMBER WITH THANKSGIVING
THE FAITHFUL AND TRUE
WHO IN THOSE YEARS OF WAR
WENT FORTH FROM THIS PLACE
FOR GOD AND THE RIGHT

THE NAMES OF THOSE WHO
RETURNED NOT AGAIN ARE
HERE INSCRIBED TO BE
HONOURED FOR EVERMORE
R.I.P.
FOR I SENT YOU OUT WITH
MOURNING AND WEEPING
BUT GOD WILL GIVE YOU
TO ME AGAIN WITH JOY
AND GLADNESS FOR EVER.
JOHN H LYONS
WILLIAM & JAMES WRIGHT
BERTRAM SHEPHARD
ALFRED BERRIDGE
WILLIAM & EDWARD FLETCHER
JAMES RICHARDS
JOHN H HASSALL
GEORGE & FRANK ASHER
JAMES HOPEWELL
HARRY GREEN
FRED ADCOCK
ERNEST THORNTON
JOHN WINTER
GEORGE H WHITE
HAROLD GREEN
ALWYNE & WILLIAM BOWER
HARRY CROUDACE
JOHN W TURNER
ERNEST H TURNER
WILLIAM BULLOCK
WILLIAM BARWISE
EDWIN J HAYNES
JAMES & GEORGE UDALL
FRED HAWKINS
ALFRED HOUGH
ALFRED WATSON
WILFRED SMITH
GUY M VAISEY ALBERT MEDAL
JOHN MANN
WALTER PARKER
HARRY BREWER
ARTHUR PENFORD
HAROLD BARTRAM
WILLIAM ANTILL
CHARLES HIBBERT
GEORGE MITCHELL
DOUGLAS CANDY
FRANCIS H MORRIS
FREDERICK V BRAMLEY
WILLIAM HANCOCKS
NATHANIEL S SMITHS
THOMAS J MUSSON
WILLIAM HARRISON
JOSEPH & ARCHIE PAGE
WILLIAM HAZELWOOD
LEONARD & CHARLES BOWEN
HUGH & DONALD FRASER
JOHN LOCKWOOD
GEORGE DENNIS
FRED PARNHAM & JOHN NORMAN
CHARLES BEAUMONT
POLLIE JEPSON
ERNEST & JAMES DICKENSON
GEORGE H ROBERTS
CYRIL HOLE
Further information on the names listed is available on the Nottinghamshire Roll of Honour website.
Attached to the rear of the high altar reredos are two wooden plaques that were transferred from St Aidan's mission church on Victoria Street when it closed in the 1950s.
FOR GOD
KING & COUNTRY

BERNARD BEANEY
FREDERICK BANCROFT
WILFRED BANCROFT
JOHN BELLAMY
HAROLD BRAILSFORD
GEORGE CHAPMAN
JOSEPH COOK
ALFRED CLARK
JAMES EDGSON
ALBERT DEVENPORT
ERNEST DEVENPORT
JAMES FOULKES
WILLIAM FLOWER
JOSEPH GRAINGER SEN
JOSEPH GRAINGER JUN
JAMES GLENN
CHARLES HIBBERT
CHARLES HENRY HIBBERT
JOHN FIFFORD
WALTER LAGER
JOSPEH PALMER
HERBERT PYE
JAMES SPARKES
WILFRED SMITH
HERBERT STOREY
HAROLD SCOTNEY

THOMAS SIDDONS
WILLIAM TAYLOR
WILLIAM WRIGHT
JAMES WRIGHT
MARY ANN JONES
ELIZABETH JONES
ALBERT DRURY
FRANK MUGGLESTONE
CONNIE SMITH
STELLA BLOOR
THOMAS JONES
KATE JONES
JOYCE GREAVES
ANNIE ANSELL
FANNY E. HERRING
RONALD RATCLIFFE
EMMA MIDDLETON
ARTHUR COOPER
ROSE M. MARSHALL
JOHN GORDON
Further information on the names listed is available on the Nottinghamshire Roll of Honour website.
Near the reredos in the chancel there is a wooden plaque commemorating the choristers who fell in the First World War: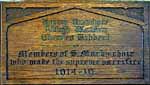 Harry Croudace
Alfred Watson
Charles Hibbert

Members of S. Mark's choir
who made the supreme sacrifice
1914-19.
Further information on the names listed is available on the Nottinghamshire Roll of Honour website.