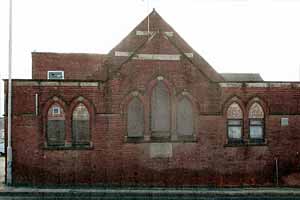 Mansfield Woodhouse
St Catherine's Mission Church
Newark Archdeaconry
Mansfield Deanery
Introduction
In 1911 the expanding coalmining and other industry around Mansfield Woodhouse necessitated the parochial council of the ancient church of St. Edward to purchase a plot of land and erect a brick-built Mission Church designated St. Catherine's. It was built on a green field site before the road, Sherwood Street, was laid. Donations from the Duke of Portland and the Sherwood Colliery Company helped to provide the funding.
The project was very much a local enterprise with the design entrusted to a Mansfield company and the main building material, brick, most probably produced in Mansfield. It was a simple but substantial structure which still stands today, over 100 years later. Originally it had a nave with seating for 250 parishioners, plus two classrooms, vestry, kitchen and toilet. A porch on the south wall provided access.
Few records have been found detailing the services and other activities or the clergy who served St. Catherine's, or the reasons for the final closure and de-consecration in 1959/1960, except for the falling number of users, a point disputed by a number of parishioners. The building was sold to a commercial enterprise and today is used as a furniture salesroom, with the rear of the building extensively extended, leaving only the east end displaying its original use.
Particular thanks to Doug Fletcher for research on this entry
and for the photographs