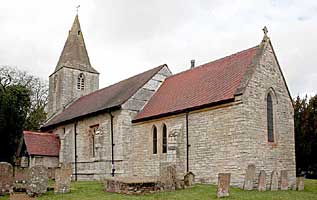 Maplebeck
St Radegund
Newark Archdeaconry
Newark and Southwell Deanery
Introduction
Maplebeck's church is one of only five parish churches in the country dedicated to St Radegund, a 6th Century Thuringian princess who was reluctantly married off to the Frankish King, Clothaire I. After the king murdered her brother, she fled to take sanctuary at the church of Noyou and became a nun. She founded the Convent of Our Lady of Poitiers. She died in 587 and was canonised in the 9th century.
There is some mystery surrounding the dedication as the church appears in records as St John up until 1895. It is possible that the church was rededicated at the time of the extensive restoration in 1898 but in the local newspaper's report of the event no mention was made of a rededication.
The church was originally a chapel belonging to the Knights Hospitaller, associated with the Hospitallers' camera at nearby Winkburn.
Dating largely from the 13th century, the church, with its octagonal broach spire and terracotta tile roof, sits on raised ground in a churchyard with an ancient yew tree, thought to be the oldest in the county.
Particular thanks to Rachel Gardner and Anita Maunsell for research on this entry