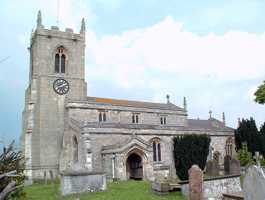 Mattersey
All Saints
Newark Archdeaconry
Bassetlaw and Bawtry Deanery
Introduction
It is not unreasonable to surmise the owners of the area, the De Maresay family, built a small, wattle and daub, church for their own use, paid for its upkeep and employed clergy. The present building was constructed in phases through the 13th to 15th centuries. The oldest stonework dates from the 13th Century – roughly corresponding to the period Mattersey Priory was rebuilt. As the Canons of the Priory were responsible for the upkeep of the chancel they may have imported stone for both projects.
The church was extensively renovated in the 1860s, with a new roof and an internal refitting including new pews.
A number of less intrusive changes took place during the course of the twentieth century.
Particular thanks to Peter Keith and Lyndis Rowley for research on this entry