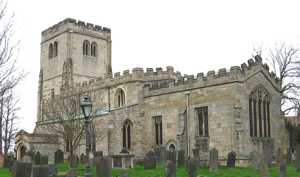 Plumtree
St Mary the Virgin
Nottingham Archdeaconry
East Bingham Deanery
Introduction
A church is mentioned in Domesday Book. Later a Saxon church was built, largely of triassic sandstone, Norman work was added, and in the 13th, 14th and 15th centuries the building achieved its present form in the Early English and Perpendicular styles. Lincolnshire limestone was widely used in the construction.
The church was altered, restored and decorated in the 1870s by the well known Victorian architects George Frederick Bodley and Thomas Garner. Part of the tower collapsed in 1905 and had to be rebuilt. Bodley and Garner's work was itself restored in the 1980s, and in 1995 the tower was adapted to incorporate a toilet, kitchenette and store room.
Features of historical interest include the Norman arch between nave and tower, the tower arcading, ancient sedilia and piscina, and some of the memorials. The Victorian organ case, screen and chancel ceiling are noteworthy, as is the painted glass, chiefly by Burlison & Grylls.
Particular thanks to Rosemary Jordan and Susan Manley for research on this entry