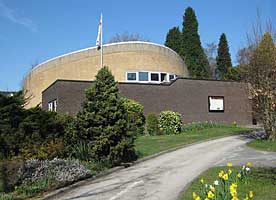 Ravenshead
St Peter
Newark Archdeaconry
Newstead Deanery
Introduction
This modern brick church was built in 1972 and designed by Colin Shewring (1914-1994) of Kings Lynn, Norfolk. Its sweeping curved roof suggests the influence of Le Corbusier . It features an elliptical shape, designed to be suitable for contemporary liturgical, educational and social activities.
It consists of an ample lobby at the entrance with ancillary services off it, e.g. kitchen and toilet, a lounge and the main church space (or nave). The latter has curved walls covered in plain concrete, which is also used for the floor. The ceiling is covered with tongue and groove boards. A raised dais with a low brick wall bears the altar table made up of a marble top supported on a metal frame. Nearby is another area partly surrounded with a low brick wall bearing seats around the plain stone font. A low brick wall separates the choir stalls from the main seating which is on curved oak benches. The lectern, pulpit and priest's chair are also oak.
There are three circular plain windows in the roof and, high up at the east end, a curved line of plain rectangular windows. Hidden in a corner at the west end is the only coloured glass window, a tiny bright memorial to Herbert and Eliza Swinton, 'early pioneers of this church'.
There are no monuments but there is a framed image of St Peter in a collage and an appliqué hanging illustrating 'I will make you fishers of men'.
Next to the double glass doors to the 'nave' is a squint. Outside is a metal cross erected at the Millennium.
The church is brick built with a catenary timber shell roof hanging from a ring beam supported by a ring of columns. The roof was once described as 'Pringle shaped'.
Particular thanks to Charles Clarkson for research on this entry
and to Charles Clarkson and Chris Brooke for the photographs.