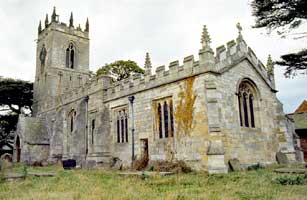 Saundby
St Martin
Newark Archdeaconry
Bassetlaw and Bawtry Deanery
Introduction
This medieval church has an impressive pinnacled tower dated 1504 (according to the listing description).
The chancel was restored and nearly rebuilt by Pearson 1885-6. This was done so well that it is hard today to tell where the medieval fabric ends and Victorian work begins.
The north aisle dates from 1891-2, though it was probably built on medieval foundations.
Outstanding features include a 14th century effigy, a monument of 1599 and an excellent cycle of stained glass by the renowned Victorian designer Charles Kempe, completed between 1885-1890. There is also some early 14th century glass in the tower.
The church is no longer in use. It was closed in 1973 but remains consecrated.
Particular thanks to Timothy Southall and Andrew Nicholson for research on this entry and to Geoff Buxton for the photographs