Scrooby St Wilfrid
Features and Fittings
Nave
The font, pulpit and brass eagle lectern date from the 1864 restoration of the church.
The original octagonal font was presented to the New England Congregational Church in Chicago in 1882 by William H. Bradley who was a member of the church and thought it would serve as a fitting memorial to his daughter and her two infant sons, all of whom had died shortly before his trip to England. The font was recovered from the Congregational church when it burned down in 1936 and has been at Chicago's Wellington Avenue Congregational Church since 1942.
A plaque on the base of the pulpit reads: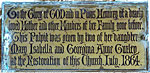 To the Glory of GOD and in Pious Memory of a dearly
loved Mother and other Members of her Family gone before.
This Pulpit was given by two of her daughters
Mary Isabella and Georgina Anne Curley,
at the Restoration of this Church. Iuly. 1864.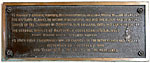 A brass plaque on the north wall of the nave records the visit of the General Society of the Mayflower Descendents, 22 September-6 October 1955.
Chancel

Altar and altar rails
The oak altar table dates from the 16th/17th century.
A brass plaque on the north chancel wall reads:
IN MEMORY OF
HENRY C.B. STONE, M.A., C.B.E.
VICAR OF SCROOBY 1928-1936
THESE ALTAR RAILS WERE GIVEN
BY HIS FAMILY, PARISHIONERS AND
FRIENDS
South Aisle
Bench in
south aisle




Bench dividing
south aisle
There are three benches, known as the Brewster Pews, in the south aisle. They have panelled bench ends and richly carved backs with bands of vines and bunches of grapes and possibly date from the 16th century.
One bench forms a divide between the east end of the south aisle and the rest of the aisle.