Scrooby
St Wilfrid
War Memorial
The war memorial is situated in the churchyard to the east of the church, near the boundary wall, and dates from 1920. It has a single-stepped square base surmounted by tapering square plinth and polished grey granite broken column. The inscription in gold lettering on the plinth reads: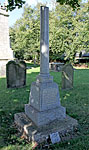 IN GRATEFUL MEMORY OF
THE MEN WHO DIED FOR THEIR
COUNTRYMEN IN THE GREAT WAR
DRIVER SIDNEY BURTON
PTE ERNEST FENNELL
PTE ALFRED STONES
PTE HARRY PAULSON
PTE FREDERICK OGLEY
PTE GEORGE FOSTER
"THE PRICE OF VICTORY"
There is also a wooden plaque in the tower commemorating the men of Serlby who fought in the First World War: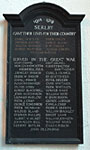 1914 – 1918
SERLBY
GAVE THEIR LIVES FOR THEIR COUNTRY
CYRIL SCHOLEY

FREDK OGLEY

ARTHUR KIPLING

ERNEST BLAND

WALTER HANSON

H W O'BRIEN

GEORGE WHITAKER

ALFRED O'BRIEN

WILLIAM BUTLER
SERVED IN THE GREAT WAR
LIEUT. COLONEL


HON. G.V. MONCKTON
ARUNDELL D.S.O.

LIEUT. COLONEL
G. SKEFFINGTON
SMYTH D.S.O.

J. BINGLEY PARKIN

CYRIL R. FRANCE

FREDK. W. PARKIN

ED SCATCHERD

IVAN HINDMARSH

CHAS WHITAKER

ROBERT BLACKWELL

OSWALD NASH

JOHN HUTCHINSON

WILLIAM KIDD

LEONARD HARLOW

H SAUNDERSON

FREDK J. CRISP

GEORGE LORTON

GEORGE TOMLINSON

CHAS. A. CRISP

FREDK MEASHAM

FREDK C. BREWIN

WILFRID BLAND

WILLIAM BRACKLEY

STEPHEN PHILLIPS

ERNEST LAMB

ALBERT V. HURST

WILLIAM JOHNSON

JOHN ALLEN BELL

WILLIAM WARD

HERBERT BUTLER

CHAS. E. PARKIN

JOHN FILLINGHAM

A carved wooden wreath leans against the tower wall nearby. The names of Serlby men who are recorded on the war memorial appear on the leaves of the wreath.