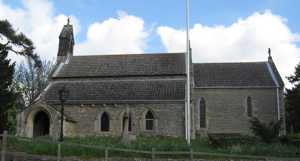 Shelton
St Mary and All Saints
Newark Archdeaconry
Newark and Southwell Deanery
Introduction
A church is recorded in the lands of Alsige in Shelton and Flawborough, so it is unclear in which place the church was located, however as Shelton is the more prominent it may well have been here.
The present building comprises a nave with south porch and south aisle, chancel, western bellcote, and modern, northern extension. A former west tower was demolished in 1837 and the present bellcote and west wall date from this time. The nave appears to have Norman origins as there is an ex situ 12th century south doorway, very simply carved and which may be an amalgamation of two doorways. The south aisle dates from the early 13th century and there is a fine trefoil-headed piscina of the same date at the south-east end. There is some pre-Conquest carving, ex situ located in the church which probably forms part of a grave-marker or tomb canopy. The chancel was heavily restored, partially rebuilt, and lengthened in 1868-78, when a north vestry was also added, but it retains 13th century lancet windows in the south wall. A late 20th century extension has been made to the north of the nave.
Throsby, writing in 1797, said simply 'a mean looking place with a tower'.
It is recorded that plays used to be held inside the church up until c1944.
There are two bells hung in the Victorian west bellcote, both by George Hedderly of Nottingham and both dated to 1785, though they may well be recasts of an older pair, details of which have not survived.