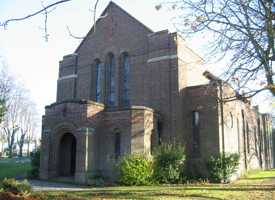 Sneinton
St Cyprian
Nottingham Archdeaconry
Nottingham South Deanery
Introduction
St Cyprian's, is a modern looking, brick built church completed in 1935 in response to the increasing eastward spread of the population of the City of Nottingham. A much smaller building, now in use as the church hall, was erected on the site in 1913, for the same reason. In 1913 the land was predominantly fruit orchards, gardens and green meadows, on the very edge of the city boundary. At that time there were few houses close to the selected quarter-acre site. The City tramway system terminated on the nearby main road, then called Sneinton Hill, only a few hundred yards away. Development was obviously planned. Today the area is heavily built-up to the point where the church buildings are no longer visible from the main road.
The plan for the site appears to have been that the original 1913 construction, designed to accommodate a congregation of 200, would soon be outgrown, and a larger building needed. At this time St Cyprian's was not a parish, but a church district. It did however have a full-time vicar living in the vicarage, also built in 1913, and now one of the oldest residences in the area. The onset of the First World War, the war service of the vicar and its effect upon his health, and subsequent departure plus other post war issues delayed further development. St Cyprian's achieved parish status in 1927.
It was originally proposed that a gothic style building, seating 600 should be erected. Cost factors prohibited that choice, and a 'modernistic' design, seating 400, by a local architect Mr C E Howitt of John Howitt & Sons, was agreed. The estimated cost was £8500, most of which was provided by the diocesan authority from the sale of the site of the former St Paul's Church on George Street in the City centre. Construction commenced in 1934, and the church was consecrated in May 1936.
Particular thanks to Doug Fletcher for research on this entry