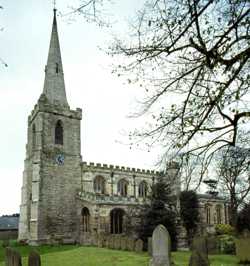 Tuxford
St Nicholas
Newark Archdeaconry
Newark and Southwell Deanery
Introduction
The precise date of the foundation of St Nicholas'is unclear, but there was a chapel-of-ease here in 1179.
The church is built of skerry stone, comprising chancel, nave, aisles, north and south porches and an embattled west tower with pinnacles and spire, clock and six bells. The east end of each aisle formed a chantry; there is a piscina on the south side.
The lower part of the tower and the north arcade with circular piers are 13th century, but the rest (and the spire) are 14th century Decorated. The clerestory dates from c1475 when the church was restored and altered. Built in 1495 (the gift of Thomas Gunthorpe) the chancel contains remarkable heads and gargoyles, one said to be of the Devil.
The 15th century south porch has niches, pinnacles and battlements. The heads above the piers in the south arcade are interesting, particularly a woman with a scold's bridle and an open-mouthed man.
The nave is dominated by the cover and canopy of the 1662 font, made by Francis Turner. The Perpendicular screen has unusual tracery detail. There is a medieval stained glass figure of St Lawrence (dating from c1500) in south aisle, and a crude stone carving of him holding a gridiron.
In the 18th century a chantry chapel was enlarged into the Whites Chapel. There is a large alabaster monument to Sir John White (d1625) and his wife, and also an extraordinary wall monument to Captain CL White killed at Bayonne in 1814. At the north end are two mutilated 14th century alabaster effigies of a cross-legged knight and his lady.
In 1893 the chancel was re-roofed and new seats were added.