Walesby St Edmund
Archaeology
| | |
| --- | --- |
| North elevation | Stanhope arms |
The north aspect was described by Pevsner, in 1979, as exceptional in its ancient work, with just the Perpendicular nave windows and the differently spaced clerestory windows above. No evidence appears of the former north aisle, but the whole north wall was probably rebuilt with old materials early in the 16th century by the Stanhopes of Haughton, whose arms are on the Perpendicular tower.
The chancel windows are of c1300 origin (judging by the intersecting tracery). The chancel arch inside, like those at East Markham, without any capitals between jambs and voussoirs are all likely to date from the early 14th century too.
Chancel
windows
South arcade
The nave has a 13th century south arcade with circular piers, with simply moulded capitals, and double-chamfered arches.
The tower and tower arch are both Perpendicular style, undertaken in 3 stages.
The south porch is relatively new, probably dating from the 19th century. The outer doorway was blocked when the porch was converted into the vestry in the 20th century.
Medieval Cross Slabs
Slabs (1) – (6) are set in the internal walls of the south porch, now a vestry, (1) – (3) forming the front of the eastern bench.

Cross slabs 1-8

Cross slab 1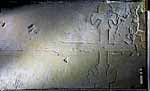 Cross slab 7
(1) At south end of bench, incised design, round-leaf bracelet cross, simple moulded edge.
(2) At south end of bench, section of shaft and moulded edge only. Perhaps another part of (1).
(3) In centre of bench, portion of slab with incised cross shaft only.
(4) In east wall, section of slab with arcade of small pointed arches and what may be either the edge of a cross shaft or a border, cf Blidworth (5) and Mansfield (6) and (8). Immediately to the right is another stone which seems to bear an incised pattern, but it is concealed by a small fitted cupboard.
(5) In the west wall, base of a small slab, incised stepped calvary.
(6) In the west wall, a very small round-leaf terminal, perhaps part of a headstone?
(7) In the chancel floor in front of the altar rails and north of centre, slab usually largely hidden by modern fitted carpet. Incised design, base missing. Cross head with late-form stylised fleur-de-lys terminals to transverse and upper limbs, disc near top of shaft. Near the base of the slab a mysterious small rectangular object on the left of the shaft.
(8) The head of a slab with an incised four-circle cross, with pointed buds, has been re-used as the bowl of the chancel piscina, south of the altar; the design has been partly cut away by the bowl (which has been repaired in cement) but enough survives to give its general form.
A female effigy at the west end of the south aisle was brought from nearby Haughton chapel.
Descriptions and drawings of the cross slabs courtesy of Peter Ryder.