Walesby
St Edmund
Monuments and Memorials
Nave
On the north wall of the nave is a brass to the Reverend Charles Gorton and his wife: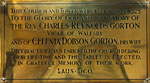 THIS CHURCH AND TOWER WERE RESTORED IN 1925
TO THE GLORY OF GOD AND IN MEMORY OF
THE REV. CHARLES REYNOLDS GORTON
VICAR OF WALESBY
AND OF CELENIA DOBSON GORTON, HIS WIFE
THEY BEAUTIFIED AND ENRICHED THE CHURCH DURING
THEIR LIFE-TIME AND THIS TABLET IS ERECTED,
IN GRATEFUL MEMORY OF THEIR WORK.
LAUS · DEO.
Chancel
There is a floor slab to a former vicar, William Pennington:

Here Lieth
The Body of
William pennington
Clerk who was 41
Yeares Vicar of
This parish he
Departed this Life
the 22th day of May
in the 73th Year of
his age and in ye
Year of our Lord
1720
South aisle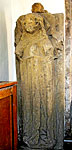 An effigy of Lady Elizabeth Stanhope stands upright against the west wall of the south aisle. Thomas Blagg described the effigy in 1930 when it was still lying in the ruins of Haughton chapel:
'Among the nettles in the mortuary chapel is the recumbent effigy of a woman, the head resting on a lozenge shaped cushion, superposed on a square one with tasselled corners. She is represented wearing the wimple or chin veil, so presumably was a "vowess." These were mostly widows of noble or gentle families who took a vow of chastity ... Examples of the wording of the vow both in English and French, and a list of the vows recorded at York between 1374 and 1526 will be found at the end of Vol. III. of the Surtees Society's Testamenta Eboracensia, and therein I find the vow of Elizabeth Stanhope, widow, taken before the archbishop at Scrooby on 19th August, 1459, and that, I take it, identifies the lady whose effigy we see.'
Medieval cross slabs
See Archaeology for details of eight medieval cross slab fragments.