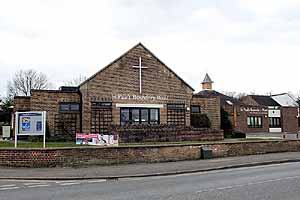 Wilford Hill
St Paul
Nottingham Archdeaconry
West Bingham Deanery
Introduction
This church began in the first dual-purpose brick hall dedicated in July 1960. The second hall was dedicated in November 1966, and both are still part of the complex. The original square sanctuary was built in 1974. It was re-constructed and extended together with the entrance and ancillary rooms to form a new parish church centre in 1988.
Now the church consists of a large nave, sanctuary, entrance foyer, office, toilets, kitchen and two halls.
It is built of reddish brick with a pyramidal roof ending in a louvred cap with a cross. There is a large white cross on the wall outside next to the entrance. Inside the walls are of bare brick or plastered and there is a pine ceiling.
The floor is carpeted throughout except for the raised dais which acts as the sanctuary. On it stand the altar, prie-dieu, lectern and font all in light oak, as is the large cross on the wall behind. Seating is on light oak chairs with magenta covers.
The four abstract, very bright stained glass windows adjacent to the sanctuary were designed by Paul Quail in 1988.
Particular thanks to Amy Calladine and Andy Nicholson for research on this entry
and to Geoff Buxton and Ian Robinson for the photographs.