The Rev Dr David Harper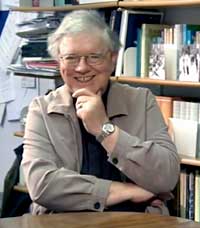 When the Church History Project started in 1999, it was possible for us to have lift off because Rev Dr David Harper, who was then Rector of Bingham, volunteered to undertake the task of Webmaster, i.e. the person who creates, maintains and develops the website. Sadly, David died on 16 March 2020. He was 68.
David had a background in Mathematics, but for the last forty years he was primarily a clergyman. He was ordained Deacon in 1980 and ordained Priest in 1981. He was Curate at Mansfield St. Peter & St. Paul from 1980-1984 and at Wollaton St. Leonard from 1984-1987. David was Vicar at Brinsley, St. James the Great, with Underwood from 1987-1994, moving to become Rector at Bingham, St. Mary and All Saints from 1994-2016. In addition, David served as Area Dean of Bingham from 2000-2003, and Area Dean of East Bingham from 2003 – 2007. David retired in 2016 and then served with Permission to Officiate.
David had been ill for a couple of years, and had given up the position of webmaster, but some of his characteristics are impossible to forget! He would arrive for meetings (usually at Jubilee House) with a box full of items, rushing in just before it might have seemed he was going to be late. His laptop would have to be plugged in, and several conversations held with Chris Brooke about different technological issues which the rest of us found passed over our heads. We could not talk among ourselves because David had a preacher's booming voice and we had no hope of being heard! The meetings themselves were, of course, a slightly tongue-in-cheek attempt to get David to speed up the transition of material from his laptop on to the website, and we all knew that in the days running up to the meeting there would be ample evidence of material hurriedly, but of course accurately, being placed on the website!
Sadly, his health deteriorated, and he retired from Bingham to live in Keyworth. He still wanted to know about the site, and he still wanted to attend meetings if it was possible. We last saw him for Christmas lunch, when Jane brought him to Southwell.
Those of us on the CHP team will all miss him.