History of the Project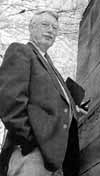 Photograph of John
Severn taken in 1998,
shortly before his death
Work on the Church History project was begun by the late John Severn. He wished to set up a reliable database of historical information about all of the churches of Southwell & Nottingham Diocese (then still known as Southwell Diocese). After John Severn's death in 1998 the project was taken on by a team drawn from the Diocesan Advisory Committee and the University of Nottingham.
It was recognised that the material collected would be of interest to a wide range of people. Not only would it be valuable for those with a responsibility for looking after and developing church buildings while respecting their history, but it would help church members to appreciate their buildings and to provide information for visitors. It could be a valuable resource for education, and for anyone doing any local history work which touches on churches. In order to make the data as widely available as possible it was decided that this Web site should be set up.
The project was launched at St Helen's Church, Burton Joyce on 18th February 2000, with information made available for five churches.
There are, however, over 300 churches in the Diocese, and over 100 former church sites. In order to collect information about these a large team of volunteer researchers has been recruited. These researchers are now collecting historical and archaeological information for around one-half of these churches and sites. Over 100 can now be seen on this Web site. (See the Revisions page for details of the progress of the project.)
We are still looking for researchers who can help with the other churches. If you might be able to assist, please do contact the Administrator, Janice Avery. We can provide you with full details about what we would like you to do.
Members of the co-ordinating team and the volunteer researchers do meet from time to time. These meetings have been opportunities for learning, as well as times to enable everyone to keep in touch with how the project is developing.
In 2008 the Project was awarded a grant from the Heritage Lottery Fund to enable the research to be completed, and the project to be extended as a resource for tourism and education. A new Project Co-ordinator, Heather Sirrel, was appointed to carry this forward.
This phase of the Project came to an end in 2014. However the research and the work on the website continues.