Bawtry
St Nicholas
Archaeology
The church consists of a three-bay nave with north and south aisles, a two-bay chancel with south chapel, north organ chamber, vestry and embattled west tower with eight pinnacles containing bells and a clock.
Significant Exterior Features
Significant Interior Features
Medieval Cross Slabs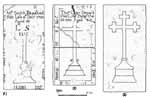 Cross slabs 1-3
Three floor stone cross slabs survive, in the floor near the west end of the church:
(1) In central aisle of nave. Incised shaft and pedestal base of cross, with traces of shield to left; remains of marginal inscription largely destroyed through the stone having been trimmed down in size, except for the 'hic iacet' at the bottom. Cross head erased by 1760 and 1816 inscriptions.
(2) In south aisle. Incised cross with canted terminals and a pedestal base with unusual volutes or scrolls. Worn marginal inscription, probably not decipherable. 1761 inscription across upper part of cross head.
(3) At North-west corner of nave. Uninscribed incised slab with a plain cross crosslet (c.f. Royston 10) rising from a pedestal base. The three slabs are difficult to date more closely than the C15 or early C16. The volute or scroll ornament on (2) hints at a late date, perhaps 1500.
Descriptions and drawings of the cross slabs courtesy of Peter Ryder.
Technical Summary
Timbers and roofs
| | | | |
| --- | --- | --- | --- |
| | NAVE | CHANCEL | TOWER |
| Main | Chamfered ties direct on to wall plates, moulded side and ridge purlins, blank bosses at intersections, plain common rafters and planking above. Perhaps C18th. | As nave, a straight continuation; a single carved boss. As nave, perhaps C18th. | Heavy, diagonal, chamfered crossing ties with raking common rafters and planking above, timber wall plates. Probably all 1713. |
| S.Aisle | Lean-to with moulded principal rafters and and moulded purlins, probably C18th. | South chapel has an exact continuation of the south nave aisle roof. | |
| N.Aisle | Lean-to with chamfered ties and central purlin, curved braces to wall posts and brackets; probably 1901-9. | | |
| Other principal | | | |
| Other timbers | | | |
Bellframe
A steel frame of type Pickford Group 8.2.A, steel cill and head with individual braces, 1990. Prior to this was a timber frame, unrecorded but a sketch in the belfry indicates that it was a type Elphick 'W', Pickford Group 6.D. that probably dated from the restoration of the tower in 1712-13.
Not scheduled for preservation Grade 5.
Walls
| | | | |
| --- | --- | --- | --- |
| | NAVE | CHANCEL | TOWER |
| Plaster covering & date | Plastered and painted except west wall | Plastered and painted | Not covered, open stonework |
| Potential for wall paintings | No visible evidence, painting possible. | No visible evidence, painting possible. | None. |
Excavations and potential for survival of below-ground archaeology
There have been no known archaeological excavations.
The fabric dates principally from the C13th to the C18th with major restorations in 1839 and 1901-9. The majority of the core medieval fabric of the body of the church remains intact whilst the tower was subject to rebuilding in 1712-13. There are three medieval cross slabs in the floor of the nave. The roofs, with the exception of the north aisle, appear to be C18th.
The churchyard is rectangular in shape with the church positioned towards the south-west. There are burials evident on all sides.
The overall potential for the survival of below-ground archaeology in the churchyard is considered to be HIGH comprising medieval construction evidence, burials, landscaping, and later restorations. Below the present interior floors of the church it is considered to be HIGH-VERY HIGH comprising medieval-C19th stratigraphy with probable post-medieval burials; the tower was rebuilt 1712-13 but may retain its medieval foundations. The archaeology of the upstanding fabric is largely medieval and C18th and its archaeological potential is HIGH-VERY HIGH with some C12th fabric evident.
Exterior:Burial numbers are expected to be average.
Interior: Stratigraphy under the entire building is likely to be medieval with later layers and considerable restoration evidence. In the body of the church the stratigraphy is likely to be punctuated by medieval and post-medieval burials.