Bestwood St Philip
Bells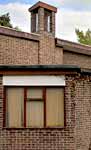 Bell turret
Before being stolen in 2011, the church had one bell in its tower, introduced in 1996. This was made of bronze and had been placed behind metal bars in an 8ft turret.
The bell was blank on the waist with the lip inscribed:
J. WARNER & SONS LONDON 1867
The bell was formerly the tenor of two at Amber Hill, Lincolnshire and was bought and donated by the Southwell Diocesan Guild of Ringers. It was hung for stationary chiming.