Bestwood St Philip
Features and Fittings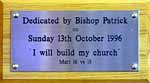 There is a metal plaque in the wall of the Sanctuary recording that the extension was dedicated by Patrick, Bishop of Southwell, on Sunday 13th October 1996.
Several wooden features in the Sanctuary were made by a craftsman from Cromford, including the altar, two chairs, the lectern, a music stand, the font (with a modern pottery bowl), a cross, a candle holder, and two churchwardens' staffs.
There are five fabric wall hangings in appliqué and collage.
Chair in the
chancel
Candle
holder
The lectern
The font
Churchwardens'
staff from the
old St Philip's
Wall hanging
Wall hanging