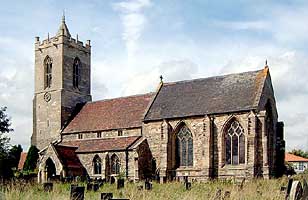 Car Colston
St Mary
Nottingham Archdeaconry
East Bingham Deanery
Introduction
The church of Saint Mary, Car Colston, is not mentioned in Domesday, but the oldest part of the building extant is the lower storey of the west tower, which dates from the thirteenth century.
From the middle of the fourteenth to the middle of the sixteenth century the church belonged to Worksop Priory. During this time the present chancel was built and the upper part of the tower rebuilt.
In the early seventeenth century the parish was touched by the plague and in the later half was home to Robert Thoroton, the Nottinghamshire antiquarian, who was buried in the churchyard.
Thoroton's grave was discovered in the nineteenth century during a period of restorations to the church fabric, which included removing the chancel roof in 1844, through to a major refit of 1882. This latter, at a cost of £900, included work on the nave, aisles, south porch, lecterns and lamps. During this time the tower was heightened and a distinctive roof, unusual in Nottinghamshire, was added.
The church has a number of interesting features, including a plain Norman font made from one block of stone, an early sixteenth-century wood pillar alms box, some fourteenth-century benches and Thoroton's stone coffin.
Particular thanks to John Kitchen for research on this entry