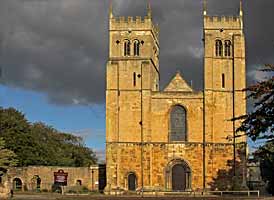 Worksop
Priory of St Mary and St Cuthbert
Newark Archdeaconry
Bassetlaw and Bawtry Deanery
Introduction
The Augustinian priory was founded in about 1120 but it was re-endowed around 1140 and the earliest parts left date from then. Originally the nave was 358 feet long but the surviving nave is 135 feet long.
There are two late Norman western towers, 90 feet high, the north-west one with 8 bells. All the building is of stone. The Norman clerestory is separated from the aisles by arcades of ten bays either side, the piers alternately cylindrical and octagonal. The triforium is unusual, with a wide arch and smaller one each side. The late 12th century south door has elaborate ironwork on the exterior face dating from c1325-50.
At the Dissolution of the priory in 1539 the nave was left because it was the parish church. The east end of the church and most of the buildings on the north were dismantled. Apart from the body of the church, only the gatehouse, a fragment of cloister wall, and the ruined Lady Chapel remained, the latter of exquisite 13th century design.
In 1929 the church was opened up so that the Lady Chapel could be reached from inside. The transepts were restored in 1935, the north one containing a great Norman arch. The south transept contains medieval monuments of the Furnival and Neville families.
In the late 1960s and early 1970s the architect Laurence King provided a new east end, with a squat tower (and fleche), superb choir and two-storeyed sacristy and vestries.
Over the altar is a fine corona of cast iron and brass; behind it a dominating east window by John Hayward (1968).
Particular thanks to Margaret Bennett-Samuels and Andy Nicholson for research on this entry
and to Geoff Buxton, Dr Chris Brooke and Andy Nicholson for the photographs.