Worksop
Priory
Bells
Worksop Priory appears to have possessed bells since at least 1161, when Pope Alexander III confirmed the right to celebrate mass at a time of general interdiction, in a low voice with closed doors and silenced bells. The Edward VI inventory of 1552 reports five bells and one small bell and references to casting and repairing the bells and their frames are common throughout the churchwardens' accounts from c. 1556 onwards, when the considerable sum of £15 18s 8¼d was collected for casting bells and making bell frames. Nearly £30 was spent in 1721 repairing and rehanging the bells, and a petition was presented to the churchwardens in 1759 to 'get the six bells run over again' although the latter refused to go ahead on this occasion, stating that 'no satisfactory calculation or account having been produced of taking down the bells, recasting them, and hanging them again' (Holland, 1826, 111-2). The bells originally hung in the north tower, but were recast and moved into the south tower with a new frame during the 1880s restoration. They were subsequently rehung in 1911 by Mears and Stainbank, with new bearings and gudgeons (Dawson, 1995, 257-8).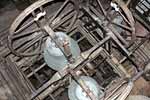 The bells in the
north tower
The bells were recast by Taylors in 1953 to commemorate the Coronation, and rehung with all new fittings in a two tier cast-iron frame. Bells 1, 2, 5, 6 and 8 are in the lower H frame and the rest are in a low sided top tier.
Inscription
Size
Weight
1

GLORIA IN EXCELSIS DEO

Waist: [T]

Recast 1953

25.5"
3.3.8
2

IN TERRA PAX

Waist:

Recast 1953

26"
3.3.21
3

LOYAULTE N'A HONTE

Waist: [T]

Recast 1953

26.875"
4.0.8
4

IN MEMORIAM E. HAWLEY NUPER VICARII QUI OBIT MDCCCLXXXII

Waist: (T)

Recast 1953

29"
4.3.6
5

IN HONOREM BEATI VIRGINIS MARIAE ET S. CUTHBERTI

Waist: (T)

Recast 1953

31.5"
5.3.21

6

TE DEUM LAUDAMUS TE DEUM CONFITUR

Waist: (T)

Recast 1953

33.5"
7.0.17
7

HORA NOVISSIMA TEMPORA PESSIMA SUNT VIGILEMUS

Waist: (T)

Recast 1953

37"
9.1.4
8

O REX GLORIAE CHRISTE VENI CUM PACE

Waist:

THIS PEAL WAS RECAST AND TWO BELLS ADDED MDCCCLXXXIIII

HENRY SLODDEN, VICAR

G. R. LUCAS

H. P. FORREST, CHURCHWARDENS

AND RECAST MCMLII

J. G. MORTON HOWARD, VICAR

GEORGE HERBERT

CHARLES HARRISON, CHURCHWARDENS

(T)

Reverse

Waist:

Recast 1953

41.125"

12.2.15

F sharp

Chiming bell
In the south tower is a single chiming bell:
| | | | |
| --- | --- | --- | --- |
| | Inscription | Size | Weight |
| 1 | THOMAS MEARS FOUNDER LONDON 1843 | 28.5" | c.4.5cwt |
There is an 8 bell carillon behind a timber screen in the north tower, with a plaque reading 'John Warner and Sons Bellfounders to Her Majesty, Cripplegate, London', suggesting a date during the Victorian era. Another plaque reads 'Frederick Pembleton Engineer Glapwell Derbyshire 1979'.