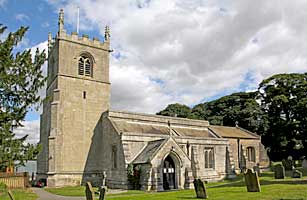 Clarborough
St John the Baptist
Newark Archdeaconry
Bassetlaw and Bawtry Deanery
Introduction
Originally of 13th Century date in the Early English style, this stone church consists of a chancel, a nave of four bays, aisles, south porch and an embattled tower with 4 pinnacles containing 3 bells.
The north arcade has circular piers and thin moulded capitals, indicating 13th Century design. The south arcade is evidently later, on octagonal piers. The windows of the chancel and aisles are square-headed, typical of early Perpendicular.
The east window is by Kempe and dates from 1900. The font is octagonal – either Perpendicular or Victorian, according to Pevsner. A fragment of the monument to Thomas Outybridge of Bolham House (d1772) survives and is by the Fishers of York.
The church was restored in 1873-4 by James Fowler of Louth (Pevsner thought it was 'over-restored'.) The nave, aisles and chancel were rebuilt and a new chamber was added on the north of the chancel for a new organ.
The yew tree in the churchyard is said to be 1,000 years old.
Thanks to Nathan Ladd, Chris Brooke, Andy Nicholson and Peter Ryder for research on this entry
and Geoff Buxton, Judith Asquith and Chris Brooke for photographs