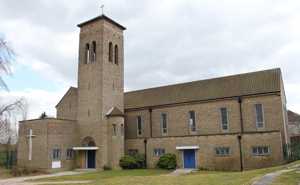 Clifton
Holy Trinity with St Francis
Nottingham Archdeaconry
West Bingham Deanery
Introduction
This church replaced Holy Trinity in Nottingham centre which was closed in 1956 and demolished. The new church was consecrated in December 1959.
It is a large brick structure comprising nave, chancel (with apse), tower, porch, and Lady Chapel added in 1962. An unusual feature is the position of the choir vestry; choristers sit in a gallery rising from 10 to 14 feet above ground level.
The 100 year old organ, two plaques, black and white marble chancel paving and a fine eagle lectern were all transferred from the old church to the new, as were the altar table and cross installed in the Lady Chapel. The bell from the demolished Holy Trinity by Thomas Mears of London was re-cast and hung at Clifton.
The Foundation Stone, laid by Sir Stuart C Goodwin JP on 31st May 1958 reads: 'This church has followed the people to the new homes'.
There is a large white cross on the outside of the Lady Chapel and another cross on top of the tower.
In 2016, the congregation from Clifton St Francis joined with Holy Trinity and the church is now known as Holy Trinity with St Francis.
Particular thanks to Geoff Buxton for the photographs.