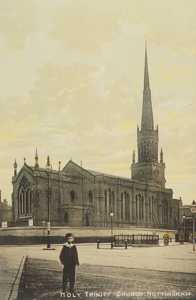 Nottingham
Holy Trinity
Nottingham Archdeaconry
Nottingham South Deanery
Introduction
During its one hundred and sixteen year life Holy Trinity was an iconic church for the people of Nottingham. Built in 1840 on the edge of the town its high spire dominated the growing urban landscape. Designed by H.I. Stevens, it originally cost £11,000 to build.
The parish of two parts and two social orders co-existed. The clergy and the wealthier members of the congregation living to the north of the church, plus others from outside the parish who chose to worship at Holy Trinity, quickly established schools and social facilities for those less fortunate. Within a few years education was available to all who sought it, not just for children but for adults. This church led and funded education continued until the early 20th century when the Nottingham Education Committee took responsibility.
Demand for church services were such that only a few years after Holy Trinity was opened a chapel-of ease, St Stephens's church, was built only a few hundred yards distant; like Holy Trinity it was funded entirely by public subscription.
When Holy Trinity was built it had a site of over 4,000 square feet, the local authority twice purchased part of the burial ground surrounding the church to remodel the road layout and create roadways around the reduced site forming Trinity Square. The site, though much altered, still bears that name.
Holy Trinity parish was founded to meet the needs of a growing incoming population. Its demise was the result of a reduction of the parish population due to the mass demolition of the working class housing to the east of the church in the early 1900s when 10,000 residents were relocated to other districts to allow the construction of a new railway line and Nottingham Victoria station.
The population drift continued until in 1935 a proposal was made to demolish the church. This did not happen at that time, and Holy Trinity remained open and active until 1956.
A new Holy Trinity church was built on the Clifton Estate located to the south of the city to replace it.
Particular thanks to Doug Fletcher for research on this entry and to him and Geoff Buxton for the images.