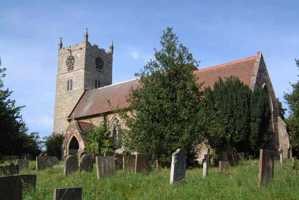 Eakring
St Andrew
Newark Archdeaconry
Newark and Southwell Deanery
Introduction
The Domesday Survey mentions a church in Eakring and the first named priest appears in the middle of the 12th Century.
Of a simple design, the building has a three-stage tower (Early English with Perpendicular top) with a chancel and unaisled nave. The latter, main body of the church was rebuilt in the days of the first Elizabeth. On a wall of the north porch are affixed two carved stone coats-of-arms of Elizabeth I, recovered from a house in the village in the late 19th Century and, presumably, originally installed in the church to mark the Tudor restoration.
Their removal and salvage by a villager would then have occurred in the early 1670s when a new rector, William Mompesson, found a dangerously dilapidated building that he in turn massively restored. The porches date from this time, as did a now-vanished plaque of Charles II's coat-of-arms, which would have replaced the Elizabethan carvings.
A third major restoration by J P St Aubyn, accompanied by the erection of a vestry, took place in 1881 and many of the contents of the church, including the glazing, date only from or just after this period.
Particular thanks to Derek Walker for research on this entry
and to Robert Brown for photographs