Finningley
Holy Trinity & St Oswald
Monuments and Memorials
Chancel
A floor stone on the sanctuary floor in memory of the Rev Levitt Pearson:

Here Lyes
in the joyfull hope of
a blessed resurrection
the Body of the Rev

d


Levitt Pearson M.A. former
Fellow of St Johns College
in Camb

r

: the late learnd …
& faithfull Rector of this Church
He lived beloved by all
and died by all lamented
y

e

30

o

day of November
in y

e

Year 1723 Aged 39
On the sanctuary floor there is also a badly worn brass plaque to William Turnell, rector from 1602 to 1617, who died 26 December 1617:

IN CHRISTO HIC DORM[IT] GVL[IELM]VS TVRNELL [JESU]
ECCLESIAE RECTOR QVI [HUJUS NUPER] ERAT
ET CVI TU RECTOR …A..SQV …R [CUM CHRISTO] APPAREBIT
ECCLES … ….. … …………………………………………………..VM
NAM QVOS … OC… …………………………………………. REGEBAS
HOS VITAE …………………….…………………………..REGIS
OBIIT ……….DIE………………………………………………….DNI:
………..1617 AETAT…………
On the east wall is a monument to the Rev Edmund Harvey who died in 1823 :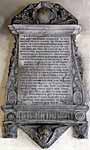 SACRED TO THE MEMORY OF
THE REV

D

EDMUND HARVEY S.T.P.
RECTOR OF THIS PARISH 59 YEARS, WHO
MANY OF THEM RESIDED IN EARNEST
FOR THE WELFARE & SALVATION OF HIS
PEOPLE HE DIED IN LONDON 27 NOV

R


1823: AGED 84. BY HIS DESIRE HE WAS
INTERRED AT HINXWORTH HERTS, NEAR
HIS SISTER MISS E. HARVEY KNOWN
FOR HER DONATIONS TO THE POOR & THIS
PARISH CHURCH ALSO OF MRS MARY
HARVEY HIS AFFECTIONATE WIFE,
DAUGHTER OF REV

D

JOHN ROOKE A.M.
VICAR OF WILLIAM HERTS. SHE DIED
DEC

R

3, 1775 & LEFT A YOUNG FAMILY
TO WHOM & HER HUSBAND HER LOSS WAS
IRREPARABLE. SHE WAS BURIED UNDER
THIS MONUMENT (NEAR HER SON WILLIAM
WHO DIED 1802) FULL OF FAITH & GOOD
WORKS AGED 35. HER GOD SUSTAINED
HER IN HER FINAL HOUR HER FINAL
HOUR BROUGHT GLORY TO HER GOD.
THEIR AFFECTIONATE SON THE PRESENT
RECTOR REV

D

JOHN HARVEY L.L.B.
ERECTED THIS MONUMENT TO THEIR
MEMORY, MAY 1828.
There is a small plaque to David Ottewell, a former Priest in Charge, on the south wall within the sedilia:
In Celebration of
The Life of
DAVID OTTEWELL
Priest in Charge of
Finningley
Auckley and Blaxton
1997 – 2007
A Job Well Done
North Aisle
In the middle of the north wall is a monument to the Rev John Harvey (died 1835) and his wife Mary Ann, who died in 1867:

SACRED
TO THE MEMORY OF
THE REV JOHN HARVEY L.L.B.
TWENTY YEARS RECTOR OF THIS PARISH
SUDDENLY CALLED
HE FINALLY RESIGNED HIS SPIRIT
TO THE HAND OF HIS SAVIOUR,
NOV. 12. MDCCCXXXV.
IN THE 42ND. YEAR OF HIS AGE.
THIS TABLET IS ERECTED AS A TRIBUTE OF AFFECTION
BY HIS WIDOW.

ALSO SACRED
TO THE MEMORY OF HIS WIDOW
MARY ANN HARVEY,
WHO DIED AT WHITBY,
NOV. 5 MDCCCLXVII, AGED 74.
Vestry
There is a painted wooden monument in the vestry to William Salmon, who died in 1694, and his wife, Susana (died 1698):

Nere this Place lyeth
the body of Mr Willm
Salmon, who dyed
December ye 11, 1694.
And also Susana
ye Wife, of ye said
Mr Salmon, who
died August ye
13th Anno Dm 1698
William Peck, writing in 1813, recorded other monuments which have since disappeared:
Here lieth the bodie of Nicholas Hatchsad, who was rector of this church thirty years. He died the First day of Sept. 1684, being 60 years of age.
Hic jacet reliquiae Henerici Livins, de Awkley, in comitatu Nottino...........Generosi
Qui obiit Vigesimo Quarto die Augusti, 1720.
Hic jacet corpus Edwardi Taylor, hujus ecclcsiae rector. Filius Johanis Taylor et Elizabeth uxoris ejus...........(remainder illegible).
Hic jacet in speluture resurrectione Jacobus Sheppard, rector, supus ecclesia
............(illegible) Eruditus............................(illegible) Probitate
valde ornatus......... Obiit quinto die Aprilii 1699.
Here lieth the body of Abraham Becuda, who departed this life the 20th of
April, 1740, aged 45.
Here lieth the body of Petie Becada, of Akum, who died April the 22d 1710,
in the 72 year of his age.
Here lieth the body of Aberham Dericka, of Blaxton, he departed this life the
29th of February, 1719, in the 72 year of his age.