Granby
All Saints
Monuments and Memorials
Chancel
There are a number of floor stones in the chancel, between the encaustic tile floor of the choir and the sanctuary rails.
Abigail Frost (died 1749) was the sister of Thomas Secker, Archbishop of Canterbury, who baptised, confirmed, married and crowned King George III:

ABIGAIL ANNA
Wife of John Frost
Daughter of Tho: Seeker
of Sibthorpe Gen

t

:
Died Octo

br

16. 1749:
Aged : 60
The floor stone in memory of John Frost is badly worn:
Another worn floor stone commemorates Sarah ?Brown (died ?1777):

HERE
lieth the Body
of Mrs Sarah Brown
The wife of Mr Jo
hn Brown who
departed this life
the 17 day of [...]
Aged 48 1777
William Hutton (died 1833):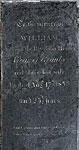 To the memory of
WILLIAM
4th son of the Rev. John Hutton
Vicar of Granby
and Jane his wife.
He died Augt 17th, 1833
aged 23 Years.
I am Christ's, and Christ is God's.
Come Lord Jesus, come quickly.
Godfrey (1907) records two other floor stones:
Here lieth the
Body of Hannah Frost
the Daughter of M

r

John and M

rs

Abigal-Anna Frost
departed this life the 26

th

day of February 17[3 or 5]8
Aged. 16: Years
Here lieth interred the
Body of the Rev

d

John Britton
Who departed this Life
The 11

th

day of November in the
Year of our Lord, 1770:
Aged 85 years
A brass plaque, orginally in Granby Methodist Chapel, was moved to the south wall of the nave in 2004 when the chapel closed: