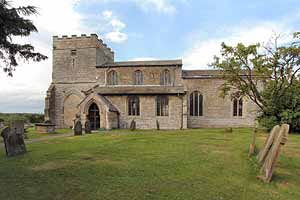 Headon cum Upton
St Peter
Newark Archdeaconry
Bassetlaw and Bawtry Deanery
Introduction
The church of St. Peter stands atop the hill in the centre of the village of Headon, where it has stood for almost 800 years.
The building has experienced many changes of fortune during the centuries. It has been neglected and renovated, Roman Catholic and Puritan, it has been extravagantly decorated and plain. But it has never been disused. Throughout these many years it has always been a focal point of village life, although perhaps less so today than in the past. Once it was larger than it is now and was not just a place for religious services but also a meeting place and social centre. Important notices were pinned to the church door, where everybody would see them, because nearly everybody came to church.
There are some unusual aspects to this church. The indications are that it was once a very large church, which suggests both wealth and a larger community than at present.
Headon was most unusual in having both a vicarage and a rectory. Until the two were united in 1881 the church has had both a rector and a vicar since the earliest known records.
Particular thanks to Janet Landon for research on this entry