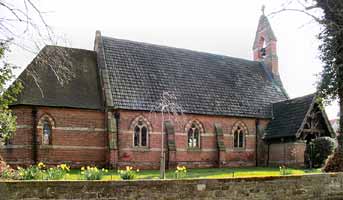 Hoveringham
St Michael and All Angels
Newark Archdeaconry
Newark and Southwell Deanery
Introduction
Hoveringham Parish Church is dedicated to St Michael. It was erected in 1865 to replace a 14th century structure. Domesday Book records a church and a priest in the village in 1086. The continuity of the earliest building is maintained by the Norman tympanum over the north door and the contemporary font, which has a history in its own right, having a base from the late 19th century and a bowl in two parts. One part came from the ruins of Thurgarton Priory the other from the original Hoveringham Norman Church. An alabaster tomb also within the church dates from 1403 and depicts Sir Robert Goushill and his wife Elizabeth, formerly the Duchess of Norfolk, who was not buried within the church. Sir Robert was her second husband and after his untimely death she married twice more.
The brick built church exterior is unaltered since its opening in 1865. Internally, apart from the provision of a small storage area and the reconfiguration of the pews in the south west of the nave to form a children's corner, that too remains unchanged. There is seating for a congregation of about two hundred in the nave with stalls in the chancel to accommodate a small choir.
Regular services at the church, which has long been part of a united benefice serving several parishes, all within easy travelling distance, take place on a regular basis.
The village of Hoveringham is located off the main Nottingham to Southwell Road, with the River Trent forming its other longitudinal boundary. It is not, therefore, a village which travellers normally have to pass through.
Particular thanks to Doug Fletcher for research on this entry