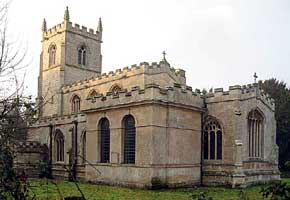 Kelham
St Wilfrid
Newark Archdeaconry
Newark and Southwell Deanery
Introduction
There is no mention of a church in Domesday Book, and it is probable that the first church was founded, in the post-Conquest period, as a private chapel to the manor, the site of which now most likely occupied by the present Hall.
The building comprises a chancel with south chapel, nave with north and south aisles, north and south porches, and a west tower. The great majority of the fabric appears to date from the 14th and 15th Centuries and stylistically it is typical Midlands Perpendicular; the tower is clearly of two phases, late 14th to early 15th Century, within this period. However, there is archaeological evidence of earlier work (perhaps 13th Century) notably in the chancel, though most probably elsewhere in the fabric of the nave, now concealed by later work. The parapets are embattled throughout, including the post-medieval sections.
The south chancel chapel dates from the early 18th Century and appears to have been added as a funerary chapel to Robert Sutton Lord Lexington (d1723), and his wife the Lady Lexington (d1703). There is a free-standing monument in marble by William Palmer, dated 1726.
The tower contains four bells hung in an Elphick 'Z' form frame, apparently by Robert Lee of Averham, dated 1891. The treble is the work of Henry Oldfield II, early 17th Century; the tenor is by George Oldfield I; the second is by Henry Dand.
The church was restored in 1872-3 by Charles Hodgson Fowler when the classical arch to the Lexington Chapel was replaced by once of Gothic form.
Thanks to Rowan Gillam-Hull, Andy Nicholson and Martin Cooper for research on this entry
and to Geoff Buxton, Dr Chris Brooke and Jane and Bill Paulson for photographs.