Kilvington St Mary
Features and Fittings

Chalice and paten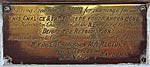 Brass plaque
A medieval chalice and paten were dug up in the churchyard in 1897. The objects are displayed in wooden case affixed to the south wall of the chancel. A brass plaque beneath the case records the event and bears the inscription:
During excavations in 1897 for inserting a furnace
THIS CHALICE AND PATEN WERE FOUND AMONG BONES
In Kilvington Churchyard, at the NE corner of the nave
BEFORE THE REFORMATION
It was customary to bury with a priest such symbols of his office.
W. VINCENT-JACKSON M.A. RECTOR
A.C SHARPLEY, W.H.NEEP, WARDENS.
The wooden lectern dates from 1867 and has a plaque with the inscription: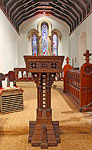 PRESENTED TO KILVINGTON CHURCH BY THE
REV

D

SAMUEL W ANDREWS M.A
FEBRUARY 17

TH

1867
REV

D

J

no

C. SAMMONS M.A. RECTOR
The pews, stalls, reader's desk, pulpit and octagonal stone font are all 19th century.
| | | | | |
| --- | --- | --- | --- | --- |
| Pews | Stalls in chancel | Reader's desk | Pulpit | Font |
There are painted texts above the chancel ('Give ear O Lord unto my Prayer'), the tower arch ('Praise God in his Sanctuary') and the south doorway ('Enter unto his gates with Thanksgiving').
To the east of the south doorway of the nave are four carved stone heads that look as if they may once have adorned nave arcade arches.
The north aisle has three metal lamp brackets originally for use with paraffin (now electric), with two similar pulpit and lectern lights.
| | | |
| --- | --- | --- |
| Text above chancel arch | Carved stone heads | Paraffin lamps |