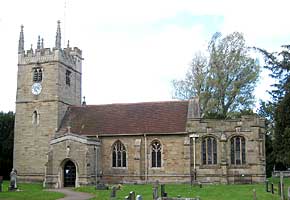 Kingston on Soar
St Winifred
Nottingham Archdeaconry
West Bingham Deanery
Introduction
There was probably a chapel-of-ease here in the late 11th and early 12th centuries in the parish of Ratcliffe on Soar.
This modest stone church consists of a chancel with south chapel, nave, south aisle, porch and embattled north tower with pinnacles, containing a clock and five bells; of these two were added in 1920 as a war memorial. The church was largely rebuilt in 1900 by R Creed.
The chancel with triple Early English style sedilia and chancel aisle is dated by an inscription AB Anno Dei 1538 BF. This marks the start of Kingston as a separate church. There is a memorial window to Arthur Strutt dated 1877 and a new east window to the 2nd Lord Belper was inserted in 1916. In the churchyard is the tomb of the 1st Baron Belper.
To the south of the chancel is the Babington Chantry Chapel (c1540), the most remarkable chantry in the county. It should have contained the tomb figures of Sir Anthony and Katherine Babington but never did. On it are over 100 babes-in-tuns, a rebus on Babington. The embattled canopy top and the ribbed vault with pendant Tudor roses are in good condition. The columns are short and thick, covered with hexagonal panels containing much damaged little figures, including the Dance of Death. Men and women in Tudor dress, children and adults with linked arms can all be seen. Around the canopy arch is a series of half-length angels, each holding an emblazoned shield. Against the east wall is a relief of the Last Judgement. Once there were twelve chained baboons but none has survived.
Simon Jenkins has listed St Winifred's among his 1000 best churches. The exterior, he writes, 'hardly rates a second glance, yet it houses the extraordinary Babington memorial'.
Particular thanks to Ray State and John Allen for research on this entry