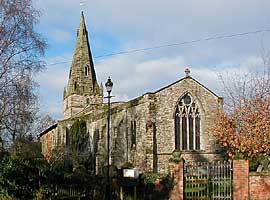 Ratcliffe on Soar
Holy Trinity
Nottingham Archdeaconry
West Bingham Deanery
Introduction
There has long been a settlement at Ratcliffe. Evidence of Iron Age and Bronze Age activity has been found in the area and Roman remains have been found at Redhill, near the confluence of the rivers Soar and Trent. It seems likely that a temple to Jupiter once stood there.
Domesday Book records a church here in 1086. It was one of two Nottinghamshire churches granted c.1115 to Norton Priory in Cheshire; the advowson was transferred to Burscough Priory in Lancashire in the 1380s.
The church comprises a west tower with spire, a three-bay nave, north and south aisles, south porch, north chapel and two-bay chancel. The core fabric dates from the 13th to the 15th centuries.
There are four alabaster tomb-chests with fine recumbent effigies commemorating members of the Sacheverall family who were lords of the manor from the early 16th century to the middle of the 17th century.
The geometrical tracery in the east window has been described as 'quite spectacular.'
Particular thanks to Ray State, John Allen and Andy Nicholson for research on this entry
and to Geoff Buxton and Dr Chris Brooke for the photographs