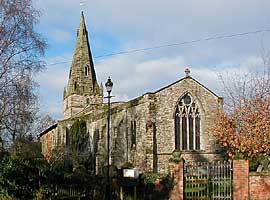 Ratcliffe on Soar
Holy Trinity
Nottingham Archdeaconry
West Bingham Deanery
Introduction
There has long been a settlement at Ratcliffe. Iron Age and Bronze Age remains are to be found in the area and Roman remains have been found at Redhill, near the confluence of the rivers Soar and Trent. It seems likely that a temple to Jupiter once stood there.
A Christian church existed in Ratcliffe at Domesday in 1086. This was probably a wooden structure built by the Saxons before the Norman Conquest. Together with a water mill and six acres of meadow, the village was valued at ten shillings in the early 12th century. Some possible traces of both the mill and an early church have recently been discovered and await further investigation.
Ratciffe church at one time was the mother church of the area, which indicates its importance astride the main crossing of the River Soar.
In time the transport arteries found more convenient crossing places and the church's status declined. However, in its heyday it was the subject of much dispute over the advowson and patronage.
Particular thanks to Ray State and John Allen for research on this entry