Ratcliffe on Soar
Holy Trinity
Features and Fittings
The fittings within and without the church are few. One could say that Holy Trinity Church, Ratcliffe was a poor church and has virtually no fittings of importance.
Pieces worth mentioning are: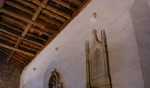 The corbels on the walls of the chancel that are the remaining evidence of the supports for the original hammer-beam roof, circa 1200.