Lenton Abbey St Barnabas
Features and Fittings
| | | |
| --- | --- | --- |
| Altar | South choir stalls | |
| Pulpit | Eagle lectern | |
Altar: Wooden (brought from St Thomas' church, dedicated by the Bishop in 1938?).

Choir stalls: Pine with minimal quatrefoil stencil decoration on front stalls, original 1938.

Pulpit: Wooden, panelled with tester, minimal stencil decoration, set on a decorative brick base, semi-circular with diagonal brick columns.

Eagle lectern: Originally from St Thomas' church, wooden, eagle stood on an orb with fluted column and stylized acanthus leaves – now redundant. Used from 1938 until 2015.

Individual chairs: date from the beginning in 1938.

Mobile Communion table: dates from 2015.

Mobile lectern: donated 2015 by the Rev Mike Payne, formerly of Tollerton, who lives locally.

Rear of the church is a kitchen and social area (2015) as a result of various donations from charities. Including bringing water on to the site.

Radiators: probably date from 1941.

Wall cupboard: the plaque on the wall cupboard next to the pulpit reads:

Presented
to St Barnabas Church
by
Mr and Mrs Harold Bowman
in memory of their only son
Arthur
October 1944

In the north chapel is a memorial cupboard holding a memory book. The cupboard was given in memory of Arthur Carr (1916-1995).

Lady Chapel: altar, wooden with minimal cinquefoil stencil decoration on front.

Foundation stone on the west wall of the nave reads: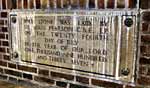 THIS STONE WAS LAID BY
SIR LOUIS PEARSON C.B.E., J.P.
ON THE TWENTY FOURTH
DAY OF JULY
IN THE YEAR OF OUR LORD
ONE THOUSAND NINE HUNDRED
AND THIRTY SEVEN.
Font
Font: At the west end of the nave and originally from St Thomas' church. Stone, octagonal, set on an octagonal panelled column. Has the inscription 'Suffer little children to come unto me and forbid them not'.
Entrance doors: fined carved, wooden, Arts and Crafts style with small panelled windows.