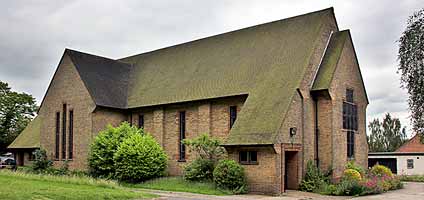 Lenton Abbey
St Barnabas
Nottingham Archdeaconry
Nottingham South Deanery
Introduction
Built of honey-coloured brick in 1938 and designed by T Cecil Howitt to serve the new Lenton Abbey council estate developed by Nottingham City Council, St Barnabas' is a modernist building with some Arts & Crafts features under a curved roof. The contractors were John Cawley Ltd of Nottingham.
It consists of a chancel, nave, transepts and morning or Lady Chapel. It has no tower and no bell. There are two steps up to the chancel which forms one space with the nave.
The reredos is a large window in the shape of a cross with coloured glass. A similar window at the west end is in plain glass. The nave and transepts have rectangular lancet windows. The Lady Chapel has small plain three-light window.
There are choir stalls in the chancel and wooden altar rails in the Lady Chapel. Seating is on separate chairs.
Messrs A Lazzerini of Lenton made the fibrous plaster decorations in the church.
St Thomas' Church, Nottingham was closed in 1930/31 and a number of the fittings from that church, in particular the font and the lectern, were incorporated into St Barnabas'.
Particular thanks to Gary Stephenson and Prof John Beckett for research on this entry
and to Dr Chris Brooke and Geoff Buxton for the photographs.