Lenton Abbey St Barnabas
Glass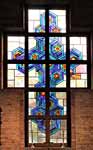 East window

The east window depicts a cross of modern design in varying colours. It was made by Angelo Camenzuli, an artist whose work can also be seen at Coventry and Liverpool cathedrals, and was dedicated on 25 November 1979.

A small plaque below the window reads:

Either end of the transepts is a three-light window.

In the nave three single light windows on each side.

The west window mimics the east window. Both are in the shape of a cross. Apart from the east window, all in plain glass.