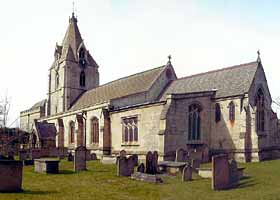 Mansfield Woodhouse
St Edmund King and Martyr
Newark Archdeaconry
Mansfield Deanery
Introduction
Although the church is not mentioned in the Domesday Book of 1086 and neither is there documentation nor archaelogical evidence to support the assumption, it is possible that a wooden church existed at Mansfield Woodhouse in the 11th century which was destroyed by fire in 1180. A church, part timber and part locally quarried magnesian limestone was built in 1190, but a disastrous fire swept the entire village in 1304 and destroyed much of the church. A grant of Sherwood Forest timber from King Edward I allowed Woodhouse and the church to be rebuilt and by Tudor times the village was home to several wealthy families. Work on rebuilding the church started soon after the fire.
Between 1804 and 1810 the church nave and aisles were virtually rebuilt, and further major restorations took place in 1848-53 and 1877-78.
Features of historical interest include the 17th century Digby Memorial, a 14th century double semi-effigial slab featuring an unknown knight and his lady, and individually carved poppy heads for the pew ends dating from the early 1850s.
By the 1980s the church suffered mining subsidence. It was sympathetically refurbished between 1986 and 1988.
Particular thanks to Anne Edgcumbe and Andy Nicholson for research on this entry
and to Geoff Buxton and Dr Chris Brooke for the photographs.