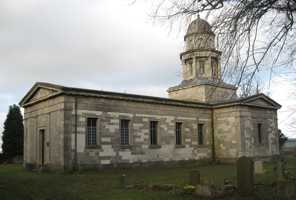 Milton
All Saints (Mausoleum)
Newark Archdeaconry
Newark and Southwell Deanery
Introduction
The church was built of stone in 1831-2, designed by Sir Robert Smirke and commissioned by the 4th Duke of Newcastle as a tomb for the Duchess, who died in 1822 (giving birth to twins). Ten members of the Newcastle family are buried here.
The building comprises a rectangular nave with a raised sanctuary area, portico and an octagonal lantern of two stages, with Greek Doric columns, containing two bells, dated 1833, by Thomas Mears of Whitechapel.
The nave of four windows has a west entry, the mausoleum an entrance to the east. From the portico the rotunda is reached, and to the north and south the tomb chambers. The circular crossing is divided off and the church ends with an Ionic reredos west of it.
The mausoleum became the parish church of Markham Clinton instead of West Markham All Saints, which stands half a mile away, so the latter was neglected. Then the roles were reversed in 1949 so the mausoleum started to decay and was vandalised. A recent restoration has revived interest in this individual building after the Redundant Churches Fund (now the Churches Conservation Trust) took over in 1972.
There is a plain wood tablet for the 4th Duke (d1851) and one for Joseph Denman (d1863) who donated the organ, but the main attraction is the marble monument by Sir Richard Westmacott for Georgina Elizabeth, Duchess and her twin babies.
It is of some great regret this family Mausoleum suffered continuing acts of vandalism during the late 1960's resulting in the total desecration of coffins belonging to the family including the fourth, fifth and sixth Dukes of Newcastle. Considerable damage was also occasioned to the various memorials, plaques and monuments including one to Georgiana Elizabeth, Fourth Duchess of Newcastle. This depicts the Duchess together with her stillborn daughter in her right arm and her son George in her left, with a high relief angelic figure over her head denoting fourteen year old Anna Maria, the fourth duke's eldest daughter who died some four months prior to the Duchess's death.
Following some considerable consultations between representatives of the Newcastle Family, the Bishop of Southwell and the National Trust's Historic Building Committee, it was agreed to temporarily move the monument, along with the sculptured wall relief incorporating the death mask of young Anna Maria to Clumber. Once at Clumber, the structure was repaired, cleaned and placed in the north Transept of the Chapel, whence the Gothic confessional box is positioned, where it remained for some years.
'It is a clever combination of church and mausoleum', Pevsner wrote of the building.
An information board in the churchyard tells how, in foggy weather in the early hours of 3rd December 1943, a returning Lancaster bomber crashed very near to the church, killing six of the crew.
A film made in 2021 by Dr Richard Gaunt, documenting the story of the mausoleum, can be viewed here: Mourning and Magnificence: Milton Mausoleum (kaltura.com)