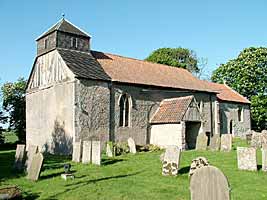 West Markham (Markham Clinton)
All Saints
Newark Archdeaconry
Newark and Southwell Deanery
Introduction
All Saints' is a small church, grade I listed, which stands in the hamlet of West Markham. The parish is made up of the hamlets of West Markham, Milton, and Bevercotes. West Markham is also known as Markham Clinton.
West Markham nestles in a hollow but a stone's throw from the Old Great North Road. It does not really command the attention of a passer-by yet this was an early Saxon settlement.
The church porch looks out onto the home meadow of Hall farm. This is scheduled as an ancient monument considered to be the earthworks of a medieval settlement and, as such, a particularly important site.
The church comprises an aisleless nave, with south porch, a half-timbered western bell turret, and a chancel. There is evidence of Norman and Transitional fabric, and later medieval work. The building was restored between 1930-45 after suffering years of neglect.
Particular thanks to Jean Gilbert for research on this entry
and to Geoff Buxton and Dr Chris Brooke for the photographs