West Markham (Markham Clinton) All Saints
Monuments and Memorials
Stone figure (by the altar)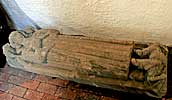 Effigy of clerk
On inspection by members of the Corpus of Romanesque Sculpture this was described as being of an effigy of a clerk in holy orders dating from around 1100.
No other monuments.
Grave markers
There are several grave markers in the chancel, commemorating past vicars and their families. The largest stone is 12½ inches thick and weighs over two tons.

Here lieth the Body of
the Reverend Francis Holliday
Vicar of this Parish
vicar of Bothamsall
and several Years Master of
the Free Grammar School
at Houghton
who departed this Life
the 4th of October 1787
In the 70th Year of his Age.
Better known by his public writings
[…] if Life and Instructions
When what can here be said.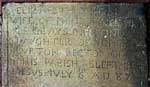 ELIZABETH THE DEAR
WIFE OF PHILIP TAYLOR
OF GRAYS INN LONDON
DAVGHTER OF JOHN
BVRTON RECTOR OF
THIS PARISH SLEPT IN
IESVS IVLY 6TH A D 87