Misterton
All Saints
Monuments and Memorials
Chancel
On the north wall of the chancel, by the chancel arch, is a memorial to Mary and James Gamson (died 1836 and 1847 respectively):

MARY
WIFE OF JAMES GAMSON
DIED DEC. 17TH 1836, AGED 54.
THROUGH FAITH OF THE OPERATION OF THE HOLY SPIRIT
SHE DEPARTED THIS LIFE IN SURE AND CERTAIN HOPE
OF THE RESURRECTION TO ETERNAL LIFE, THROUGH
OUR LORD JESUS CHRIST.
JAMES GAMSON
DIED FEBY 21ST 1847.
AGED 74 YEARS
On the south wall of the chancel is a memorial tablet to the Rev. Godwin Swift (died 1889):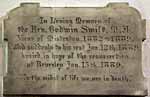 In Loving Memory of
the Rev. Godwin Swift, M.A.
Vicar of Misterton, 1882 – 1889,
Called suddenly to his rest Jun. 12th, 1889,
buried in hope of the resurrection,
at Beverley Jun. 15th, 1889.
"In the midst of life we are in death."
There is also a floor stone in memory of William Nettleship, mariner, who died in 1745 and his wife, Margaret:

Here lieth the Body
of William Nettelship of
Misterton Mariner and
Margaret his Wife, he die[d]
July 5th 1745, Aged 65 Ye[ars]
She died Decemr the 13th 173[..]
Aged 65 Years
[...] this Place were burie[d]
six of there Children
Holy Cross Chapel
There are several monuments on the east wall of the Holy Cross Chapel.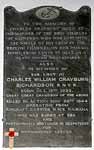 TO THE MEMORY OF
CHARLES GRAYBURN AGED 37,
COMMANDER OF THE BRIG CHARLES
OF GAINSBRO, WHO WAS LOST WITH
THE WHOLE OF HIS CREW IN THE
BRITISH CHANNEL, ON HER PASSAGE
HOME FROM ZANTE TO HULL, IN A
HEAVY STORM NOVR 23RD 1824.
--------
ALSO
IN MEMORY OF
SUB. LIEUT. (A)
CHARLES WILLIAM GRAYBURN
RICHARDSON R.N.V.R.,
BORN OCT. 15TH 1922,
GREAT GREAT GRANDSON OF THE ABOVE
KILLED IN ACTON MAY 26TH 1944
OPERATING FROM
AIRCRAFT CARRIER H.M.S. NAIRANA
WHO WAS BURIED AT SEA
AND
POSTHUMOUSLY MENTIONED IN DESPATCHES
FOR
DISTINGUISHED SERVICE.
Immediately below the memorial to Charles Grayburn is a stone monument in memory of William Tonge (died 1808):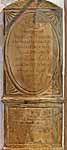 IN
Memory of
WILLIAM TONGE,
who departed this Life
the 15 of July 1808,
Aged 55 Years.
Also on the Outside
Lieth three Children
who died Young.
To the north of these monuments is a small plaque in memory of William and Mary Sherlock:
THE ARTISTIC ENHANCEMENT OF THIS CHAPEL
WAS PRESENTED IN MEMORY OF
WILLIAM HENRY SHERLOCK
1881 – 1933
AND
MARGARET MARY SHERLOCK
(NEE WILLIAMS)
1882 – 1963
MARRIED IN ALL SAINTS CHURCH, MISTERTON
ON
14TH JULY 1908
AND THEIR CHILDREN
HARRY & MARY
On the north wall of the chapel is a simple brass plaque:
IN LOVING MEMORY OF
NIGEL LISTER
1961 - 1977
South Aisle
There are four memorial brasses to members of the Corringham family on the east wall of the south aisle:
IN MEMORIAM
REBECCA
WIFE OF THE LATE GEORGE FREDERICK CORRINGHAM
BORN, JUNE 16. 1821
DIED, DECEMBER 22. 1898
IN MEMORIAM
GEORGE FREDERICK CORRINGHAM
BORN, JUNE 6. 1813
DIED, FEB. 28. 1888
IN MEMORIAM
EMILY CORRINGHAM
BORN, OCT. 15. 1821
DIED, JAN. 7. 1892.
Exterior
There are three memorial tablets on the eastern elevation of the church.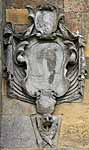 Memorial cartouche
To the south of the east window of the north aisle is an early 18th century memorial cartouche with skull and drapery. The inscription is completely illegible.
To the north of the east window of the chancel is a slate memorial tablet to Robert Hickson, rope maker, who died in 1771, and below it is a worn stone tablet to Nicholas Walton, Master Shipwright.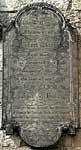 In
Memory of
Robert Hickson
Rope-maker
Who departed this Life
January the 16th
In the Year of our LORD
M.DCC.LXXI
Aged 59 Years