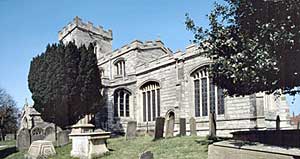 North Muskham
St Wilfrid
Newark Archdeaconry
Newark and Southwell Deanery
Introduction
The church is built of stone, all embattled, much Perpendicular, consisting of a chancel, a nave with clerestory, aisles with arcades of three bays, a south porch and Decorated west tower c1350 containing four bells.
The north arcade is the oldest part of the building, dating from c1190, and contains perhaps the earliest octagonal piers in Nottinghamshire. The tower arch is of the same style as the north arcade.
The south aisle arcade and porch are Perpendicular from c1480. The chancel and north aisle were rebuilt at the expense of J Barton of Holme in c1530. The Barton coat of arms appears on a buttress. They were benefactors before the Reformation.
There are four-light windows north and south and a five-light east window in the grand chancel. The clerestory has three-light windows and contemporary timber roof. There are some pieces of early 16th century stained glass with the Barton rebus. Also there is Victorian glass.
The font is of 1662, the pulpit somewhat later, as are the altar rails with elegant balusters. The richly carved oak rood screen may be Tudor. There is an unusual monument, dedicated to John Smithe (d.1583), which takes the form of a squat pyramid.
The church was restored in 1906.
Particular thanks to Jessica Key, Andy Nicholson, David and Valerie Mellors, Graham Lott and Peter Ryder for research on this entry and to Geoff Buxton for the photographs.